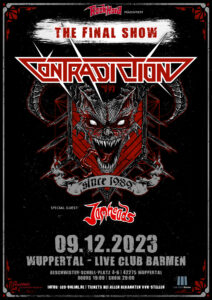 (german and ticket info below)
Dear fans and supporters… this will be it: after more than 34 years our final show will happen in December 2023.
One thing's for sure: this will be all other than just a regular show. Join us on a time travel from the beginning in 1989 until today and expect some surprises as well as some really special set we are preparing. You don't want to miss this!
Until then we will play a bunch of more shows and if you're lucky your area is included 😉
We're happy that our good old friends Jamheads will embark on this trip.
+++++++ deutsch +++++++
Liebe Freunde… anno 2023 steht unsere letzte Show nach dann mehr als 34 Jahren auf dem Programm. Eines ist sicher: es wird nicht bloß ein normales Konzert sein. Begebt euch für diesen einen Abend mit uns auf eine Zeitreise von 1989 bis heute und freut euch auf einige Überraschungen und ein spezielles Set. Das willst Du nicht verpassen!
Doch keine Bange: bis dahin kommen wir in vielen Gegenden nochmal livehaftig vorbei, um uns laut zu verabschieden.
Mit von der Partie sind unsere guten alten Freunde vom Arschtritt-Rock'n'Roll-Kommando JAMHEADS.
Ticketinfo:
Wuppertal live (recommended): https://tinyurl.com/2bhy6brh
Reservix: https://tinyurl.com/2d3pshmk
Eventim: https://tinyurl.com/yc84hnk8